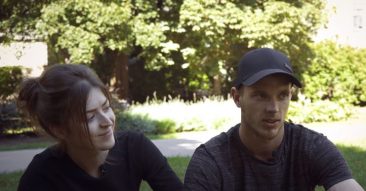 Einars: – My name is Einars Vitols and I lived in England for five years.
Ieva: – My name is Ieva Muiznika. I returned from Swindon, England, just two months ago. I spent a year in Swindon, England. You could say that I went there to visit Einars. We have returned to Riga as we decided to look for opportunities in the capital. The only work I've done in England is working in a clothing store. I really liked it, there were really cool people there and the work was not too difficult. But still I wanted to go home so we set that as a goal and here we are.
Einars: – In any case, we had arranged everything before coming back, we both had been offered jobs. So, there were no problems. You could say that our jobs were already waiting for us here.
I think that support is really important. If, for example, I didn't have someone to poke and prod me, I'd probably still be in England and, most likely, would have stayed there forever. Because… it really matters whether you have people who support you, who are there for you, who are read to help you. That's really important. Then you feel that you are not alone. It's hard to push yourself forward in life if you're alone. It can be done, of course, but the motivation is a lot weaker. People next to you are the ones that provide really strong motivation.